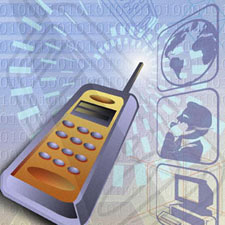 With Remote Life, you get lights and appliances at your command, anytime, anywhere. From any one-touch location, you have the power to dim and set scenes that complement your lifestyle. You also get a security package without the monthly monitoring bill. This gives you virtual watch of your home from anywhere, at anytime. And best of all, you get a home that responds to and reports to YOU!
The Remote Control Center: At the heart of Remote Life is the Remote Control Center (RCC). The RCC resembles a DVD/VCR player or game station. The RCC is a dedicated device that, based on your permission, can monitor and control any electronic device in your home or office. The RCC also manages seamless control from your cell-phone or the Internet to your home. If you prefer, don't connect the RCC to the Internet. You still have the smartest home on the block!
People Watch: Now that we have made facial recognition a reality, the comfort of protection extends to your loved ones as well. Instantly, you can watch your new baby sleep from anywhere in the world, complete with sights and sounds. When you have a babysitter at your residence, what better way than from your cell phone to quickly look at every room and know exactly what is happening? You can increase security in your neighborhood by implementing facial recognition in key control access areas. True insight.
Scene Setter: Don't like coming home to a dark house? What if you could unlock your front door and your home lit up to the path you used most when first getting home? Remote Life makes "Lighting Your Lifestyle" a reality. We take lighting to the next level by allowing you to set what is known as lighting "scenes" or "moods." Scenes allow you to dim the family room and dining room lights for home movie viewing without getting up from the couch. With one button, light the way to the kitchen for a midnight snack. Scare the neighborhood kids on Halloween with a "spooky" house. All with the click of a button on your TV remote, cell phone or computer!
Having a party? Turn every light on automatically, dimming some areas for intimate conversing and spotlighting others. With Remote Life, you have true remote power. You are now free to move beyond the simple on-off switch of the past. Remote Life enhances your living environment with efficiency, convenience and security that is easy, secure, and provides you total control.
Mobile Media: Ever wondered what was happening at your home or office when you're not there? Now you can watch your home or office from anywhere in the world! Anytime! With Mobile Media, you're always connected. With your cell-phone, your PDA, or any computer, you can watch your home and office anytime. Imagine always being in touch with that which is most familiar. Imaging the power of Mobile Media!