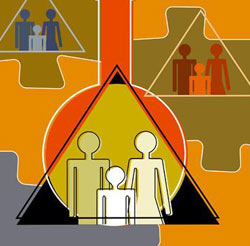 Do you do a lot of business traveling? Are the grandparents thousands of miles away? Bridge the gap with Family Share! No matter how many miles are between you and your beloved family, Family Share allows you to see your family from anywhere as you tell them goodnight. Or as they tell you Good Morning!
Child Checker: The Child Checker monitors and records all entries and exits from your home, logging arrivals and departures when s/he presses his/her thumb to the electronic sensor at the front door. Your cameras record whether your child is alone or bringing home a group of friends. Using the scheduler, you can even set naggers to remind the children to do their homework, remember chores and prepare for upcoming activities.
Vacation View: Going on vacation? Set certain lights on and off at random times to appear as if you are home. Vacation View gives you the power to operate your home as if you are there. You can schedule cameras, microphones, and any other media to operate at specified times to maintain the appearance of your daily routine and keep you updated on events occurring in you home. In addition, motion and sound can be detected so that you can be notified immediately of any changes.
Motion Monitor: Have you ever wondered when there was movement or any motion around your home? The Motion Map is a service that maintains a log of every motion event detected. Then, at your convenience, you log on to your personal Remote Life and check when every motion event occurred. It's that easy. Add in Media Anywhere, and you can have video and audio snippets e-mailed to you. Finally, smart motion sensing.
The Utility Commander is your answer to effective utility management.